Celebrate Two Decades of Fall Fun: 20th Annual Pumpkin Fest Returns on November 4, 2023!
---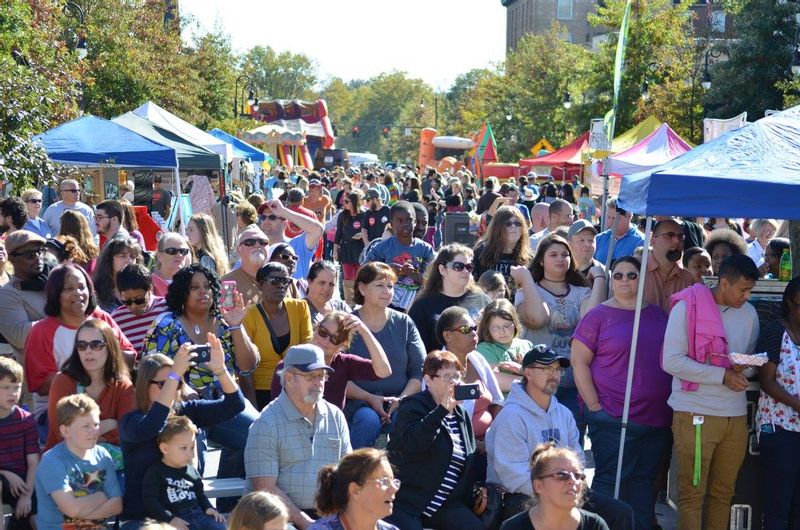 Join us in Downtown Statesville on Saturday, November 4, 2023, for the Flow Automotive 20th Annual Statesville Pumpkin Fest from 10am to 5pm! The streets will be bustling with people, and downtown will be filled with live music, arts and crafts, great food, shopping, children's activities, and much more. Stay after the festival for the DENSO After Party featuring Kids in America, Totally 80's Tribute Band from 5:30pm - 8:30pm! Be sure to dress in your favorite 80's costume for a chance to win Downtown Dollars! When you arrive, stop by the Information Tent, sponsored by Discover Statesville, located right on the square, to pick up your festival map, see a list of vendors, and have any questions answered. You can also purchase our limited edition 20th Annual t-shirts!
Prepare to be dazzled by an array of musical acts at the Main Stage on South Center Street, including performances by His & Hers, Groove Machine, and Kids in America. Our Main Stage is proudly sponsored by the City of Statesville, with DENSO as the Entertainment sponsor, and WAME Radio as our gracious host. Throughout the day, you can enjoy a variety of other captivating performances, from dance showcases to gymnastics and martial arts demonstrations on the Community Stage, sponsored by The Joint Chiropractic, over at North Meeting Street (see the full schedule below).
Get ready for an action-packed day of non-stop fun for the little ones at the Kids' Zone, sponsored by Republic Services! Located on the Broad Street UMC Lawn at West Broad Street, this exciting area will be a hub of adventure, featuring a wide array of inflatables. Kids can conquer the exhilarating 27 ft Dual Lane Super Slide, navigate the challenging 66ft Obstacle Course, and immerse themselves in the thrill of the All Sport Mega Arena. Safety is our priority, and all rides are expertly staffed for your peace of mind. For just $5, kids can enjoy unlimited turns on the inflatables throughout the day with the purchase of a wristband. It's the ultimate ticket to a day full of laughter and memories!
Court Street will transform into a large parking lot of classic cars (1993 and older) during the 2023 Statesville Pumpkin Fest for the Classic Car Cruise-In. All cars must enter from the intersection of West Front and Meeting Streets beginning at 9am. Pumpkin Fest attracts thousands of spectators each year, and we want everyone to arrive safe and leave safe. Contact Chuck Goode (704-929-8150) for more information.
For adult beverages, we are encouraging patrons to take advantage of The 'Ville Social District, which allows you to purchase alcoholic drinks from participating Downtown locations and wander throughout the festival. Please visit www.downtownstatesville.com/social-district/ for more information and participating businesses.

Downtown restaurants and stores will also be open throughout the day. The event will take place rain or shine. Please visit www.downtownstatesville.com/business-directory/ for a full list.
Admission to the festival is free, although some of the activities will charge a fee.

The Statesville Pumpkin Fest is produced by Downtown Statesville (DSDC) and the Greater Statesville Chamber of Commerce, and sponsored by Flow Automotive, DENSO Manufacturing, Discover Statesville, The Joint Chiropractic, Republic Services, AP Vintage Motors, Food Lion, Home Paramount Pest Control, Southern Distilling Co., Paramount Roofing Systems, Gator Roofing, Kewaunee, Jordan Grant & Associates, Alarm South, Troops Haul Junk, City of Statesville, WAME, Broad Street UMC, Phoenix Martial Arts, and Troutman Chair Company.
Main Stage Entertainment Sponsored by DENSO - Hosted by WAME Real Country 92.9 & 550:
12:00 - 1:30 – His & Hers
2:00 - 4:00 pm – Groove Machine
5:30 - 8:30 – Kids in America, Totally 80s Tribute Band
Community Stage – Sponsored by The Joint Chiropractic:
10:30 am – American Renaissance Cheer Squad
11:00 am - Tilley's Dance Academy
11:30 am - Centre Ballet Conservatory
12:00 pm - In His Steps Dance
12:30 pm - Statesville Dance and Performing Arts
1:00 pm – Betty's School of Dance
1:30 pm - Phoenix Martial Arts
2:00 pm – Ignite Dance Ministries
2:30 pm – Carolina Dogwood Festival
For more information about the Flow Automotive Statesville Pumpkin Fest, please visit the website at www.statesvillepumpkinfest.com.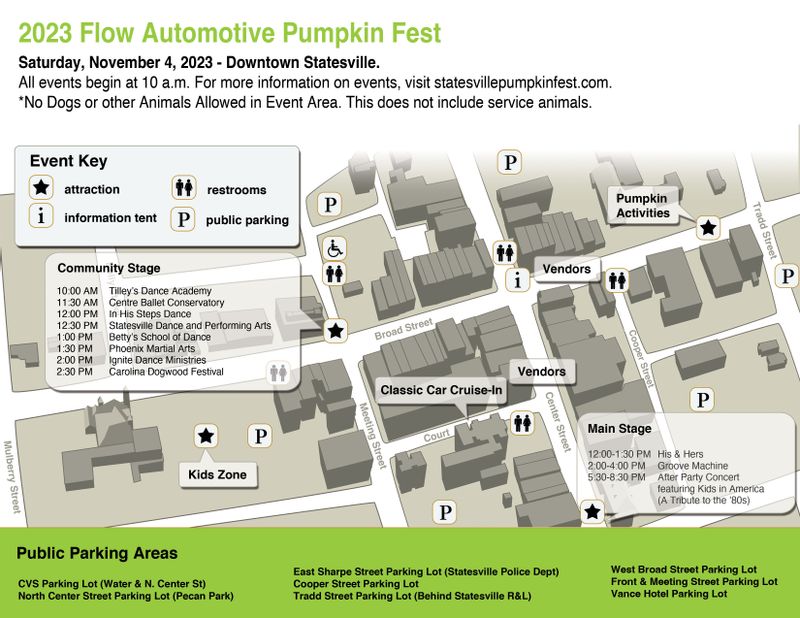 Organizer Contacts:
Brittany Marlow, 704-878-3436, [email protected]
Downtown Statesville Development Corporation
Shannon Viera, 704-873-2892,[email protected]
Greater Statesville Chamber of Commerce
---